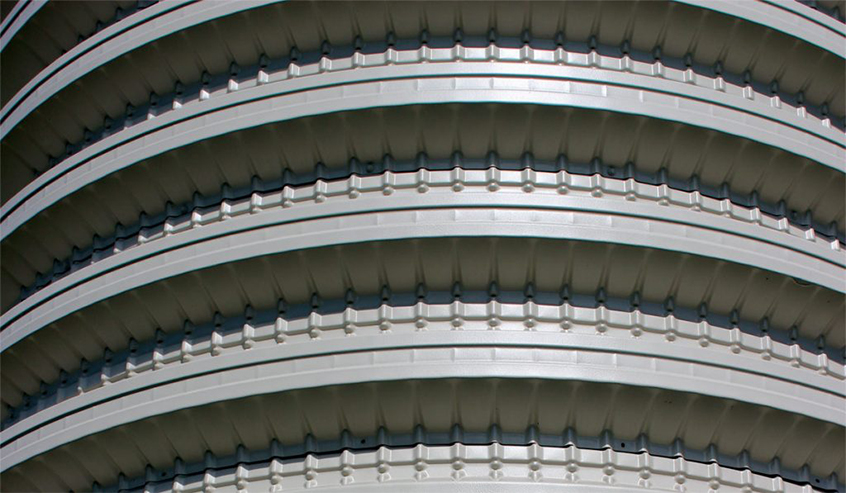 Curveline
Curveline was acquired in 2013 and operates as a separate business unit under ATAS. It toll processes panels for ATAS as well as other leading metal roof and wall panel manufacturers.
Panel Thickness:
Steel: 18 gauge to 26 gauge
Aluminum: .032″, .040″, .050″, temper H14
Panel Length:
2 ft minimum; 35 ft maximum (depending on radius)
Panel Depth:
3/4″ to 4″ deep
Panel Width:
4 ft maximum
Materials:
Panel materials suitable for crimp-curving include painted or unpainted galvanized steel, or Galvalume, Acrylic Coated Galvalume®, aluminum, anodized aluminum and stainless steel. ASTM Grades A, B, C, CQ and D steel can be readily crimp-curved.
Minimum Radius:
Varies by profile: As a general rule, allow 1 ft of radius for every inch of panel depth. Consult Curveline for further information.
Colors & Finishes:
Virtually all paint systems used on standard profiled panels are suitable for crimp-curving. Consult panel manufacturer for information on available colors and finishes. Crimp-curving can also be performed on anodized panels, or on panels which are primed for post-painting. Stainless steel Type 304-2B finishes are also suitable for curving.
Technical Support Services:
Curveline's technical staff is available to answer your questions on all types of standard and special curving applications. Curveline can provide additional technical data on request, including engineering span tables based on snow load and wind conditions. Sketch drawings are also available to stimulate design ideas.