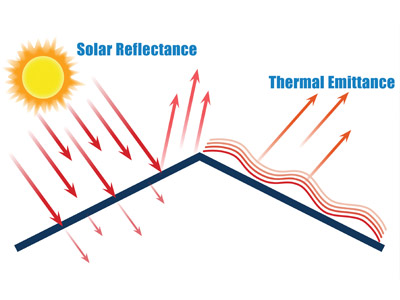 Cool Roofing
ATAS is redefining cool with its cool metal roofing products and capabilities. Many options are available to create roofs for residential and commercial construction with customized cool components.
Materials:
ATAS offers roofing products in aluminum, steel, zinc, stainless steel and copper. Metal is as natural of a material as you can get. It offers recyclability, strength, longevity, weather resistance and more. Metal also does not outgas like petroleum-based products. As these other materials age, they emit harmful volatile organic compounds (VOC's).
Coatings:
Cool pigment paint reflects infrared radiation, allowing the color to appear the same while keeping the material cooler. This helps in reducing the urban heat island effect, and many of our colors qualify for LEED® Heat Island Credits. The 70% PVDF finishes that are used carry a 30-year limited warranty addressing fading and chalking. ATAS coated materials are non-staining and virtually maintenance free. Any surface residue is easily removed with conventional cleaning solutions or detergents. The coatings are so cool that they meet national energy standards and guidelines. Many ATAS roofing products comply with the stringent California Title 24 Energy Efficiency Standards. LEED® credits also can be acquired because the ATAS coatings meet the minimum required solar reflectance index value set by the U.S. Green Building Council. An added bonus is that metal roofs can contribute LEED® points beyond what the coating contributes; for instance, adding points with solar systems.
Additionally, our new patented Above Sheathing Ventilation Spacer Shim creates energy savings by reducing air-conditioning costs in the summer, providing ventilation spaces in increments of 3/8″.